ACV - Actual Cash Value
    VA Clear Title - a vehicle title, clean of a lien or any salvage brands
    VA Clean Title - a history of a vehicle's VIN # is clean of salvage events
    VA Rebuilt Title - a salvage vehicle has passed VA salvage inspection and ready to be registered
    VA Salvage Title - a vehicle required to pass the VA salvage inspection
    VA Non-Repairable Title - a vehicle cannot be registered any longer. Good for parts or Export only.
    Financial Total Loss - A vehicle considered "totaled" by an insurer
    Structural Total Loss - Total burn, Salty Water Flood, Roll Over, Stripped e.t.c.

 A vehicle's actual cash value (ACV) is the fair market value of a car.
Clear Title & Clear History Vehicles
Formally, the term Clear Title means that a vehicle title doesn't have a lien or any salvage brands such as rebuilt, theft, water damaged e.t.c
The term Clean Title means that the history of a vehicle's VIN # is clean of salvage events. Nevertheless, in the real life, in some cases these rules might look a little bit different. There are vehicles sold by insurance companies with a Clear Title (no brands on title) but the history is salvage.
Not all vehicles in VA which have been involved in an accident obtain a branded title. It's up to insurance company to repair the vehicle or total it.
There are a lot of vehicles sold in VA that have previously involved in an accident such as collision, fire damage, storm damage or hail damage and still have clean titles. Some of the prior damaged vehicles are not even reported to the vehicle history sources such as Carfax, Autocheck e.t.c. Here is an example of the vehicle that has been damaged in the front right corner twice in its history. The first damage was deemed by insurance company to be repaired. The second one (lesser than the first one) was deemed as not worth to be repaired and the vehicle was totaled and then sold thru a salvage yard. With the lapse of time since the first damage the value of the vehicle lowered and the insurance company made a decision to total the vehicle rather than repair it.
The panel painted black is the part that was replaced in the first damage. It is easy to find out by the weld spots.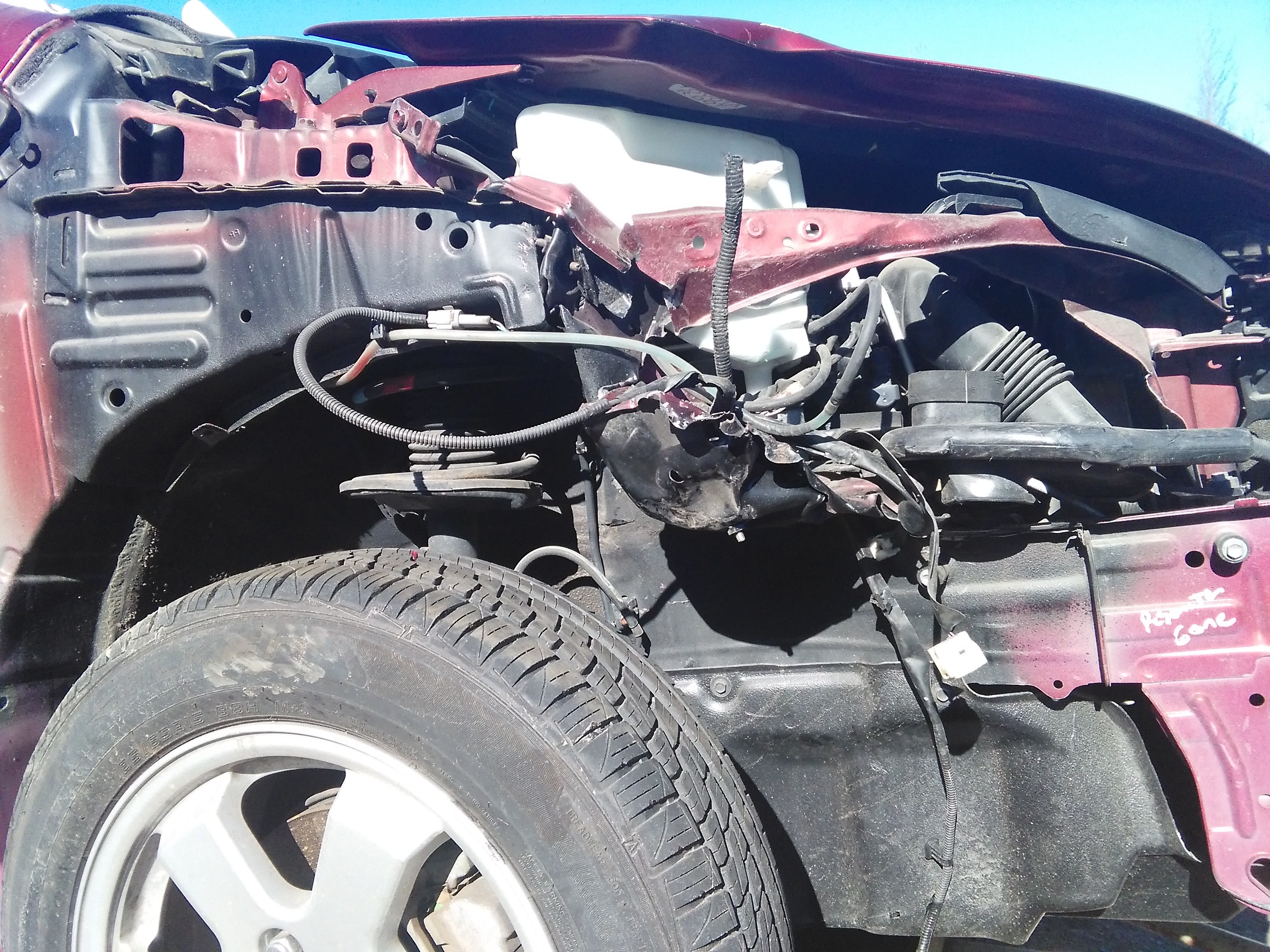 Rebuilt Title & Salvage History Vehicles
What Is a Salvage Vehicle?
When an auto insurance company determines that the cost of the repairs (e.g., after an accident) is greater than the value of the car, they write the car off as a total loss. Typically, cars are considered to be "totaled" when the cost to repair the vehicle is higher than the actual cash value (ACV) of the vehicle. Practically speaking, however, it is not always practical to repair a vehicle, even if the cost of repair is less than its ACV. A vehicle worth $8,000 requiring $6,000 in repairs might be considered "totaled" by an insurer even though the cost of repair is less than its value before the accident. Insurance companies will typically consider such a vehicle to be a total loss, even though the repairs are only 75% of ACV.
If a car or a truck is in an accident and the cost of repairing the vehicle is a deemed to high compared to the value of the vehicle, the car insurance company will decide not to pay to have it repaired declaring it a total loss and selling it to a rebuilder thru auto auction or directly to repairer.
The criteria for deciding when a car is a total loss and when it can be repaired vary from insurance company to insurance company and might even be dictated and controlled by state statute or regulation. It could have been restored to literally factory-new condition, but it is still a salvage vehicle.
A vehicle that is declared salvage cannot be operated on the highways of the Commonwealth and may not be registered as long as there is an active salvage certificate. Just because a car is considered to be "totaled" and not worth fixing after an accident by the insurance company, this does NOT NECESSARILY mean the car should be scrapped.
What a Salvage Title/Certificate Means?
A salvage title/certificate means that the car cannot be sold without a proper license, driven, or registered in its current condition.
If an insurer totals a vehicle, VA state requires the car's title to be changed to a "salvage title."
In the "Other Pertinent Data" block of VA salvage title you will find the remark "SALVAGE VEHICLE".
Also on the right side of VA salvage certificate of title you will find another remark "SALVAGE; BRANDED IF REBUILT".




When a salvage certificate issued by the DMV, the repaired vehicle must be first inspected by a Certified Salvage Vehicle Inspector before applying for a title.
If the car is repaired by a dealer who specializes in redeeming salvage vehicles - the owner can apply for a new title, but the title will always carry a designation that the vehicle has been salvaged or rebuilt. VA salvage vehicle will acquire a brand "Rebuilt" in the "Other Pertinent Data" block, with the VA Rebuilder license number on its new title.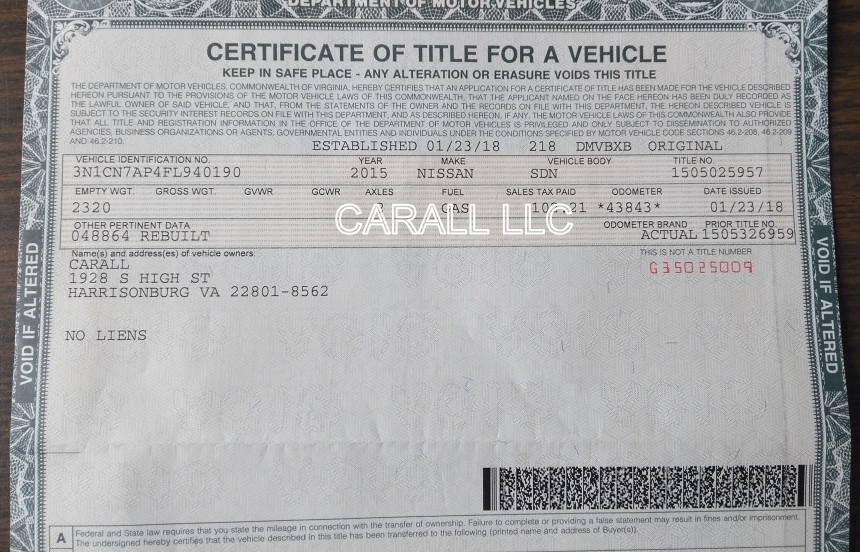 After July 1, 2015, salvage vehicles that have an "estimated cost of repair less than 90%, but not exceeding 90% of the actual cash value will receive a certificate of title branded as rebuilt." This is a permanent brand on the vehicle and will be on every subsequent title issued for the vehicle. But just because it's not on the title doesn't erase its salvage history. There are vehicles totaled by insurance company sold with a clear title but has the total history record in the NMVTIS database.

It is unlawful for any person to sell a rebuilt vehicle without first having formally disclosed in writing that the vehicle was rebuilt by providing the buyer with a Rebuilt Vehicle Discloser Statement (VSA 59).

Salvaged vehicles are usually damaged by accidents, by fire, by a natural disaster, such as a hurricane or flood, or hail.
However, just because a car has been given a salvaged title does not mean it is presently unsafe to drive. Unless the damage is particularly extensive, a salvaged vehicle may be restored back to being roadworthy again.
For instance, the insurance company evaluates the cost of repair at the going rate using all new original equipment parts, doing the cosmetic work perfectly etc. A car that has been "totaled" and repaired can be a REAL bargain. The cost of the rebuilt title vehicle is by DMV to be 25% less than Clean title vehicle.
Buying a car with a rebuilt title is a little risky because you basically have to trust the rebuilder. We rebuild our vehicles professionally back to the original manufacturer condition.

NOTE: Understand that not all insurance companies will insure a salvage car. Talk with your insurance company first, or shop around for auto insurance companies that will cover your rebuilt vehicle.


Different Kinds of Damage
1. Collision:  A car hits an object, such as a tree, collides with another vehicle. Damaged due to hitting a pothole or a deer.

2. Wind storm: Flying debris crash into a car, which may cause a lot of dents or more serious damage.

3. Hail damage: Cars damaged from hailstorms. Since recently the carfax reports began showing hail damages.

4. Theft recovery: After a vehicle has been stolen and is missing for a certain period of time, the insurance company will pay off the vehicle. If the vehicle is eventually found, the insurance company is free to sell it to a salvager. Virginia state will then issue a rebuilt title for the car.

5. Vandalism: When someone spray-painted or purposely damaged a vehicle and caused enough damage to make the car expedient to be totaled.

6. Flood damage: Flood-damaged cars by rain (fresh water) or salt water. Such vehicles will receive a VA certificate of title branded as "water damaged".

7. Non-Repairable: Damaged, wrecked, or burned to the extent that the only residual value of the vehicle is as a source of parts or scrap metal. Non-repairable means the vehicle can never be registered again. The title has been effectively cancelled.


Should You Avoid a Rebuilt Title Car?
In some cases, these cars have been professionally rebuilt to a standard almost as high as the factory's, and that means they should suffer no serious consequences compared to a car with a clean title. Resale value is affected, however: Cars with rebuilt titles sell for much less money than their clean-title counterparts, and they're often good deals if they've been rebuilt properly.
We do not deal with vehicles damaged by water. Never buy a vehicle damaged by salt water. Salt water will corrode all existing aluminum in the car: electronic connectors, ignition lock e.t.c. Salt water-damaged cars must always be avoided.

Chapter 16. Salvage, Nonrepairable, and Rebuilt Vehicles » § 46.2-1600. (Effective July 1, 2021) Definitions


Financial Total Loss & Structural Total Loss
There are basically two types of total loss categories: Financial Total Loss and Structural Total Loss.
The Structural Total Loss is actually a non-repairable vehicle. It means you cannot apply for VA title. Non-repairable vehicle means "parts only" or "export only".
Financial Total Loss is what we will acquaint with. The most of the time when one hear the term "Total Loss" he thinks of the "Structural Total Loss" which is wrong.
The term "Total Loss" is usually means the "Financial Total Loss".
Most insurance companies will declare a car, light truck, or SUV to be a total loss when the preliminary cost of repairs reaches some pre-determined percentage of the vehicle's value. Generally, the percentage used in VA is anywhere from 70% to 80%. The percentage over 90% in VA is considered a non-repairable vehicle.
A total loss is declared when it is determined that it is in the insurance company's best financial interest to declare the vehicle a total loss. This percentage is an insurance industry practice and in most cases is not related to a state law. There are only a few states that require a vehicle be declared a total loss when a certain threshold is met. Most states allow an insurer to repair a vehicle all the way up to 100% of the vehicles value. Another way insurance companies calculate if a vehicle should be totaled is to determine what they could sell the salvage for and then subtract that figure from the value of the vehicle. If the cost to repair the vehicle exceeds that figure then the vehicle is a total loss.